Sponsorship Swanny SLSC
---
Solar Earth Solutions is a new sponsor of Swanbourne Nedlands Surf Life Saving Club. Solar Earth has supported the club through the provision of an additional 2.16kw of solar panels. The additional panels will assist the club with managing it's power costs whilst hopefully providing some income from the feed-in tarrif.
The german-designed panels have a lifetime of over 25 years, meaning that Solar Earth's support will have a lasting effect on our volunteer organisation. General running costs for the club make up a large portion of expenses, so Solar Earth's donation will be of significant assistance. This will allow us to focus our limited resources on improving our lifesaving service rather than day to day running costs such as power bills.
To recognise Solar Earth Solutions contribution to the club, our newest inflatable Rescue Boat, the Thundercat, will be branded in Solar Earth Logos.
Solar Earth Solutions is a Western Australian family-owned company. If members are interested in getting more information about quality solar panels at their residence or business please Email Klaus or call 0427 078808. You can also check out Solar Earth Solutions website at www.solarearthsolutions.com.au.
Klaus' team are very professional and the club is happy to recommend them.





Peter Moyes Anglican Community School
Solar Earth Solutions has donated a small photovoltaic stand-alone 12 V solar system to Peter Moyes Anglican Community School. The teaching staff use the system as a teaching aid about renewable energy.  Klaus is also a regular visitor to the school to help educate PMACS students about managing energy consumption and the benefits and applications of renewable energy.
Solar Earth is dedicated to helping the students to be educated about Solar Energy and it's benefits to the planet.
With Electricity prices rising all the time, it's not only a great money saving tool to teach the students about Free Energy from the Sun, but it's also about saving the environment. Solar Earth will continue to assist in any way it can to help with the education of young minds at PMACS.
PMACS Donation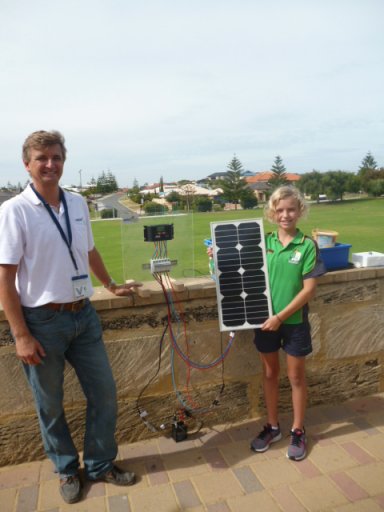 Klaus Henkel and his very Able Assistant